10 years of Fraunhofer CSP
A proficient competence centre for photovoltaics and important driving force for the economy: The Fraunhofer Center for Silicon Photovoltaics CSP in Halle (Saale) was established 10 years ago. The research establishment's anniversary was celebrated today as part of an international symposium. Sachsen-Anhalt's Prime Minister Dr. Reiner Haselhoff and many partners from commerce, politics and science were amongst the well-wishers. At the same time, the ground was symbolically broken for a new solar park.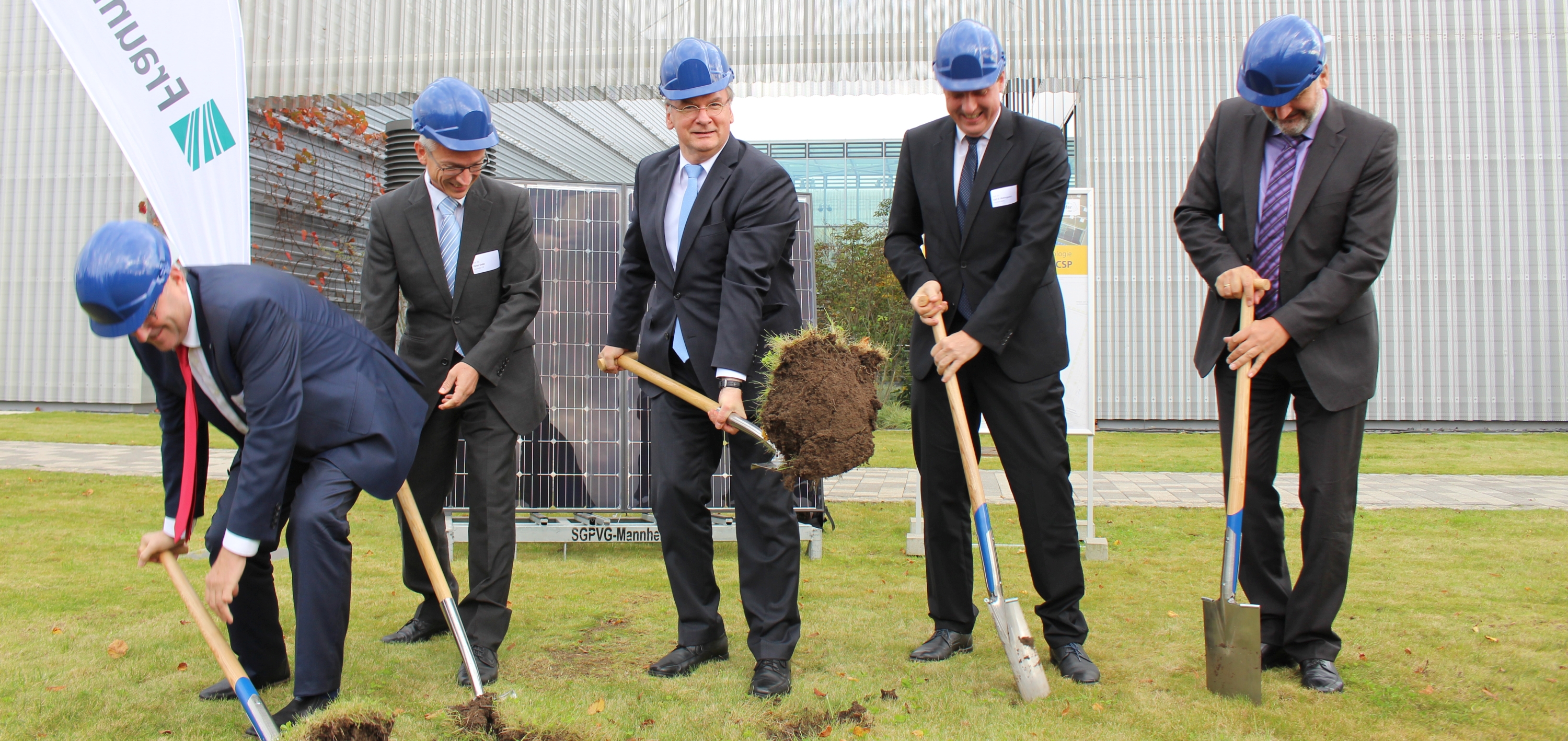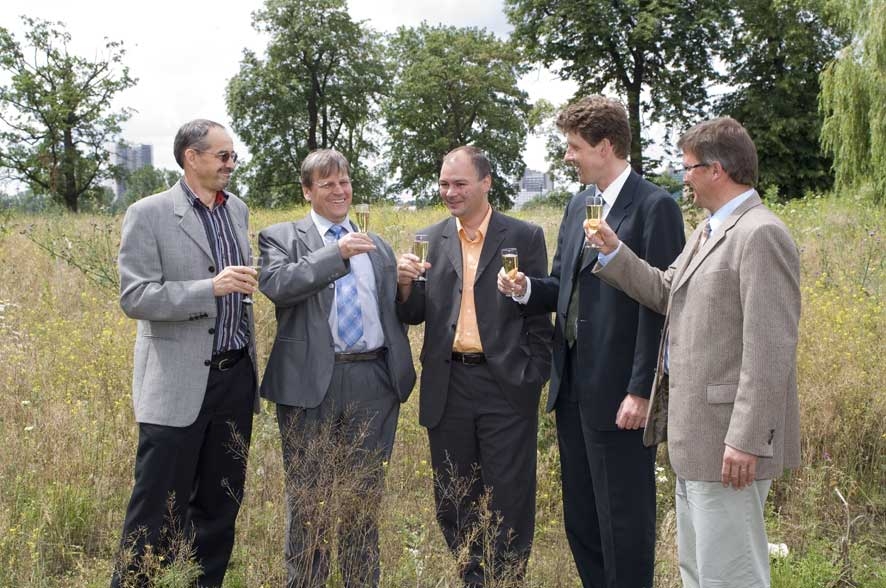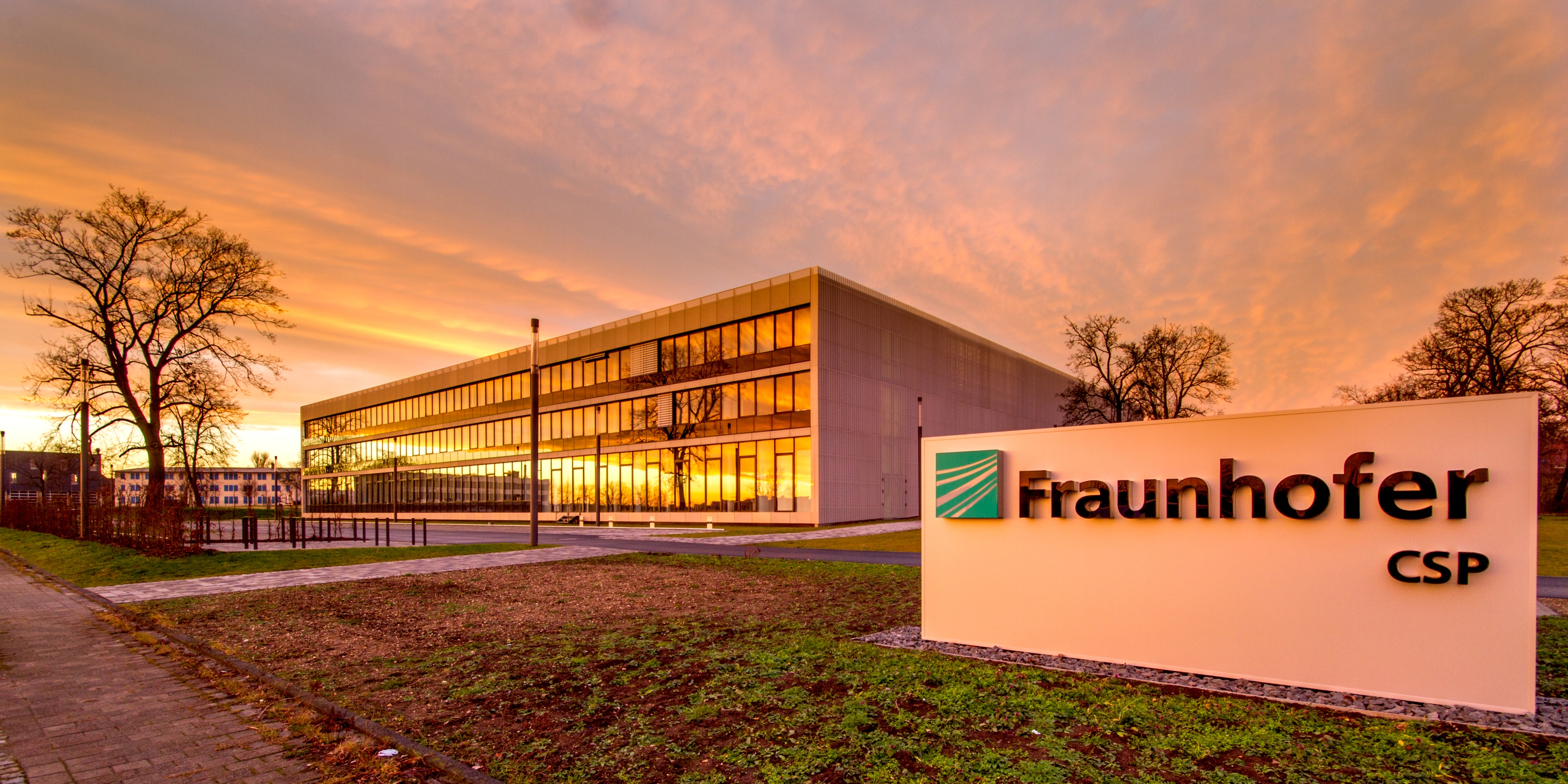 In the summer of 2007, the founders of the Fraunhofer CSP literally raised a toast on the grassy fields: The Fraunhofer society and the state of Saxony-Anhalt decided to create a new research establishment in Halle (Saale) to meet the demands for research and qualifications in the solar industry, which was growing strongly in central Germany at the time. Today, an impressive research facility with around 70 employees stands at this very spot, which has proven itself as a first class partner for research and development projects on the international stage.
»An efficient research infrastructure that is close to industry is elementary for Saxony-Anhalt's successful economic development. Fraunhofer CSP offers the country's businesses exactly that and is the leading contributor in maintaining first class solar competence in our region, even after many companies of the photovoltaic branch have moved on« says Dr. Reiner Haseloff, Prime Minister of Saxony-Anhalt, at the jubilee.
Fraunhofer CSP, a joint body of the Fraunhofer Institute for Microstructure of Materials and Systems IMWS in Halle (Saale) and the Fraunhofer Institute for Solar Energy Systems ISE in Freiburg, supports clients through research projects such as silicon crystallisation, solar module technology and solar wafer processing, as well as the development of new materials along the value chain. The focus is on evaluating solar cells and modules as well as micro structural material and component characterisation.
The facility's portfolio will soon be extended by its own photovoltaic system, for which the symbolic groundbreaking ceremony took place at the jubilee celebrations. 196 solar modules of the latest generation will be installed in an open field system and 162 more on the roof of the building and used for measurement reading. In total they have nominal power of 100 kWp. Electricity produced by the system is to be used in part by Fraunhofer CSP itself.
»Fraunhofer CSP has always proven again and again that enormously important impulses for the further photovoltaic development emanates from Germany, be it for more efficiency, longer durability or optimised manufacturing processes. Furthermore, the facility is a good example of collaboration at Fraunhofer, which allows us to offer our customers even greater expertise and even better service« says Dr. Andreas Bett, an institute director of the Fraunhofer ISE, at the jubilee.
»We have achieved a lot in ten years at Fraunhofer CSP and we did our bit to ensure that solar power contributes to climate friendly energy production today and that the development of photovoltaics continues to achieve significant rates of growth« says Professor Ralf B. Wehrspohn, Director of the Fraunhofer IMWS. In future, the research facility wants to promote Industry 4.0 solutions for photovoltaics, new approaches to recycling of solar modules or use of mechanical learning algorithms, which are to be deployed for condition monitoring and forecasting of processes and existing modules.
More than 100 international experts from industry and science discussed part of these future subjects as part of the symposium »PV Days«, which concluded the Fraunhofer CSP anniversary celebrations. Subjects ranged from measuring performance and modelling of solar modules and systems to innovative diagnostic processes and safety options for defects such as PID and LID to new fields of application in building integration or in combination with electro-mobility. The highlight of the symposium was a panel discussion on the future of photovoltaics in Europe with Prof. Dr. Jörg Bagdahn (President of the Anhalt University and former director of Fraunhofer CSP), Prof. Dr. Stefan Glunz (Fraunhofer ISE), Dr. Karl Heinz Küsters (Fraunhofer CSP), Dr. Jörg Müller (Hanwha Q Cells GmbH), Mathias Rauch (Fraunhofer EU office Brussels) and Dr. Thomas Zettler (Laytec GmbH).