Fraunhofer CSP receives award at the PhotoVoltaica trade fair in Morocco
The Fraunhofer Center for Silicon Photovoltaics CSP was recognized for its services in developing renewable energy in Morocco at the PhotoVoltaica trade fair in Casablanca. The Fraunhofer CSP has cooperated closely with partners in Morocco since 2012, especially on topics concerning module reliability and solutions for photovoltaics in desert regions.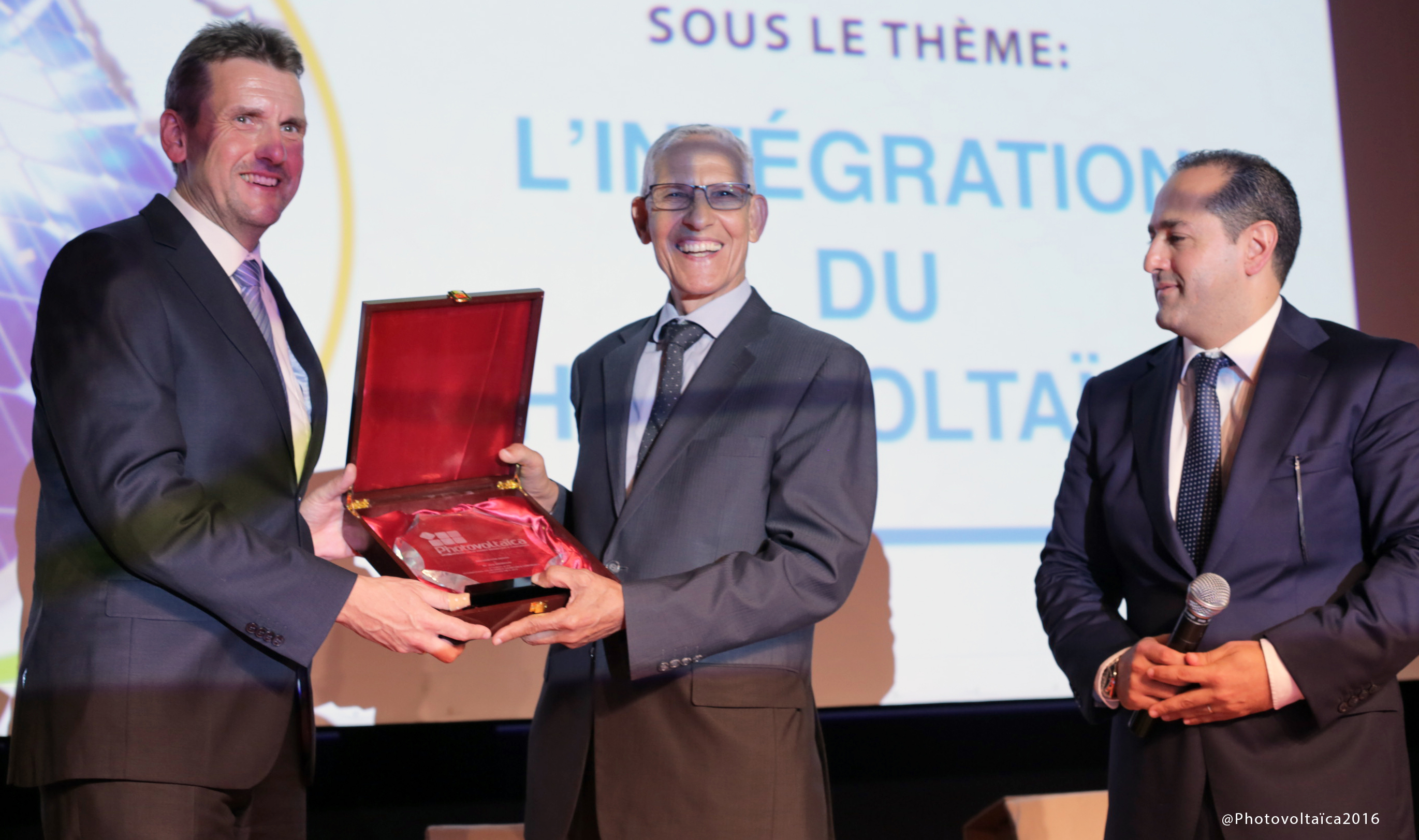 Dr. Matthias Ebert, Deputy Head of the Fraunhofer CSP, accepted the Photovoltaica Recognition Award. In particular, the award recognized the cooperation of the researchers in Halle (Saale) with the Moroccan Institut de Recherche en Energie Solaire et Energies Nouvelles (IRESEN) and the intensive support of the Fraunhofer CSP for the setting up of the »Green Energy Park« in the Moroccan town of Ben Guerir. This test and research platform for photovoltaics modules and systems, which was started up in 2015, is the largest test field for photovoltaics and solar thermal energy in Africa. In the »Green Energy Park« the performance characteristics of solar modules and systems and locally dependent effects such as solar irradiation, atmosphere, wind, pollution, rainfall and temperature can be examined in real time.
At the prize award ceremony, Badr Ikken, Head of the IRESEN, emphasized above all the personal commitment of Prof. Jörg Bagdahn, who was the Head of the Fraunhofer CSP until the end of August 2016 and who was decisive in pushing ahead the research institute's cooperation with African partners. »Use of photovoltaics in the sun belt of the Earth offers enormous potential for the development of renewable energy. The development of suitable material solutions for the prevailing climate conditions there will remain one of our focal areas – we therefore want to further expedite our cooperations with local partners.
The Fraunhofer CSP has worked with IRESEN since 2012; the constant scientific exchange includes, among other things, joint workshops and seminars. In a current project the two research establishments are investigating material ageing and the pollution behavior of solar modules when used in desert areas.
The capacity of energy production from renewable sources in Morocco is currently 2740 MW, the government plans to increase this to 6930 MW by 2020. At the PhotoVoltaica, among other the energy ministers from Mali, Cameroon and Guinea-Bissau found out about the developments in Morocco. In total. 60 exhibitors from four continents presented at the trade fair. Further awards were received by Lahcen Daoudi, Morocco's Minister for Higher Education and Scientific Research, and Ahmed Ennaoui, Research Director for Solar Energy at the Qatar Environment and Energy Research Institute (QEERI).