Cooperation of Fraunhofer CSP and LEDs: WAVELABS develops a LED-based solar module tester
WAVELABS Solar Metrology Systems GmbH is developing an LED-based solar simulator for solar modules. The company in Leipzig is about to enter a cooperation agreement with the Fraunhofer Center for Silicon Photovoltaics CSP. WAVELABS and the Fraunhofer CSP undersigned an according declaration of intent for a cooperation in the field of product specification and qualification of the new solar simulator which is supposed to be ready for serial production early in 2015.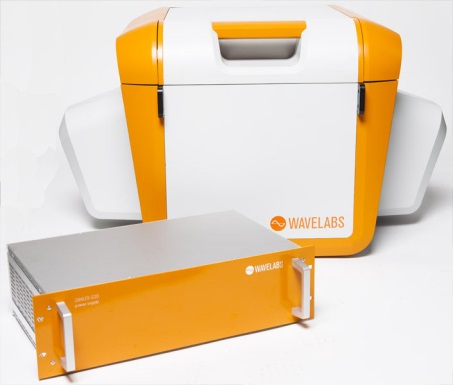 The innovative technology of the WAVELABS solar simulator for SINUS-220 solar cells will also provide the basis for the SINUS-2100. By using LEDs with 21 different colors it will enable an almost error-free efficacy measurement of solar cells. The object of the cooperation between WAVELABS and Fraunhofer CSP is to enable the perfect future simulation of the sun also for solar modules. WAVELABS will allow specifications of Fraunhofer CSP merge into the development of the module tester, which are derived from the development of solar modules at the Module Technology Center of Fraunhofer CSP.
The LED technology provides the only foundation to account for an exact spectrum stable in time and a homogeneous illumination of the solar cells. The SINUS-220 already makes it possible to freely select the light-exposure time–from several milliseconds all the way to continuous illumination. In the future, it will be important to flash the modules with long exposure times, especially when measuring modules of high efficiency. For this reason, the future solar simulator for the solar module SINUS-2100 can rely on the market-tested LED technology of the SINUS-220.
Dipl.-Ing. Jörn Suthues, CTO WAVELABS: "Fraunhofer CSP is one of the worldwide leading institutes operating in the field of module technology research. We are glad that we have found such a top-class cooperation partner. I am convinced that our cooperation will succeed in constructing a solar module tester which will improve both the efficiency and the competitiveness of solar module manufacturers in research and development, and in manufacturing as well."
Prof. Jörg Bagdahn, Director of the Fraunhofer Center for Silicon Photovoltaics: "We are convinced of the innovative technology of WAVELABS. We are looking forward to contributing the experience we made in the field of solar module technology to the transfer of technology from cell to module. We see that there is a great demand on our industrial partner's side for a better simulation of the sun by an intelligent application of LEDs."